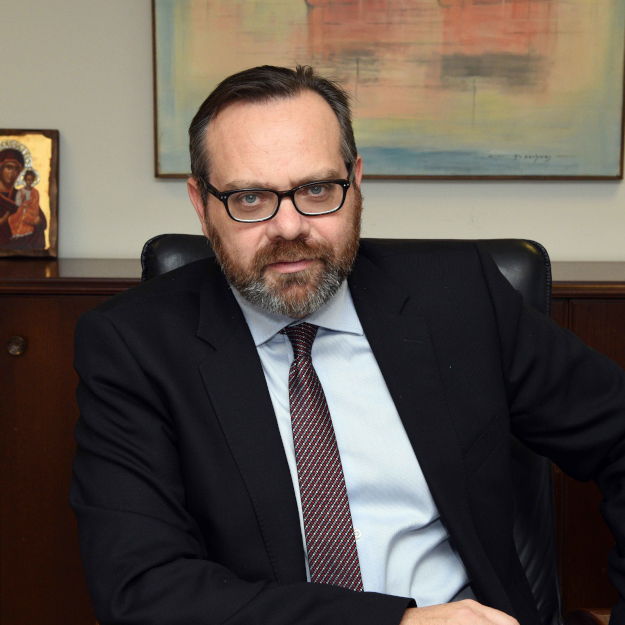 Evangelos Kyriazopoulos
Mr. Kyriazopoulos serves as Secretary General of Ports, Port Policy and Maritime Investments of the Ministry of Maritime Affairs and Insular Policy since 05-08-2019. 
From 2001, he worked as a Scientific Consultant at the Ministry for the Environment, Energy and Climate Change (Direction for Spatial Planning). His areas of expertise are the assessment of major investments on the fields of industry, tourism, transportation, industrial parks, retail parks and aquaculture parks.
Has worked for and has been a member in various committees and working groups in the European Union, the OECD and Greece on issues concerning spatial planning, sea spatial planning (blue economy), coastal management, island policy, dives parks, transport networks, tourism – spatial themes and urban/regional development projects.

He has also worked as a scientific consultant in three different ministerial offices. The office of the Minister of Maritime Affairs, Aegean and Island Policy, where he worked on the liberalization of port services and issues dealing with island development. At the office of the Minister of Environment, Energy and Climate Change, Dr. Kiriazopoulos dealt with promoting environmental protection areas and issues concerning energy efficiency. Finally, at the Ministry of Administrative Reform and e-Government, Dr. Kyriazopoulos dealt with issues of restructuring public administrative procedures (public sector recruitment and transfers), the reduction of administrative costs, issues of e-Government, ect. 
Dr Kyriazopoulos has worked as full time researcher at the Institute of Maritime Studies & Research (INMER) and as an associate, for almost ten years,at the Institute of Regional Development of Panteion University.Additionally, he has participated in a series of scientific research programs in the fields of Transport, Tourism, Logistics, Urban and Regional Development.

He has lectured at the private colleges BCA and SBE, in the fields of Shipping, Logistics and Distribution Management, Port Logistics, Maritime and Port Economics. He also taught courses on spatial planning at the Institute of Public Administration.

The academic years 2008-2010, he served as a Lecturer at Hellenic Army Academy (Evelpidon) in the field of Economics and Army Logistics and from 2010, he is lecturing at the Department of Public Administration of Panteion University in fields such as Economic Programme and Theories of Economic Analysis.

His academic interests have led him to participate as a seminar instructor of various scientific seminars in Greece and abroad.
From 1988 to 2001, Dr. Kyriazopoulos worked in the private sector in the fields of shipping,journalism, banking, and private higher education. He successfully carried out important duties atthe "Sea Land Container Service", as port and custom clerk and in "Egnatia Bank" at theCorrespondent Banking Department. 
Dr Evangelos Kyriazopoulos holds an undergraduate degree from the Department of Urban & Regional Development of Panteion University. Additionally, he holds a Master's degree in "International Transport" from the Department of Maritime Studies of College of Cardiff – University of Wales (UK) and a Ph.D. in "Sea Ports, Logistics & Regional Development" from Panteion University.

He has participated in various software training seminars including SPSS, JOOMLA etc. as well as seminars on journalism, banking, marketing and shipping brokerage. 
Dr Evangelos Kyriazopoulos holds a Μaster's on Maritime Studies degree from the University of Wales, Cardiff.
He also holds a Bachelor's Degree on City/Urban, Community and Regional Planning from Panteion Panepistimio ikonomikon kai Politikon Epistimon.